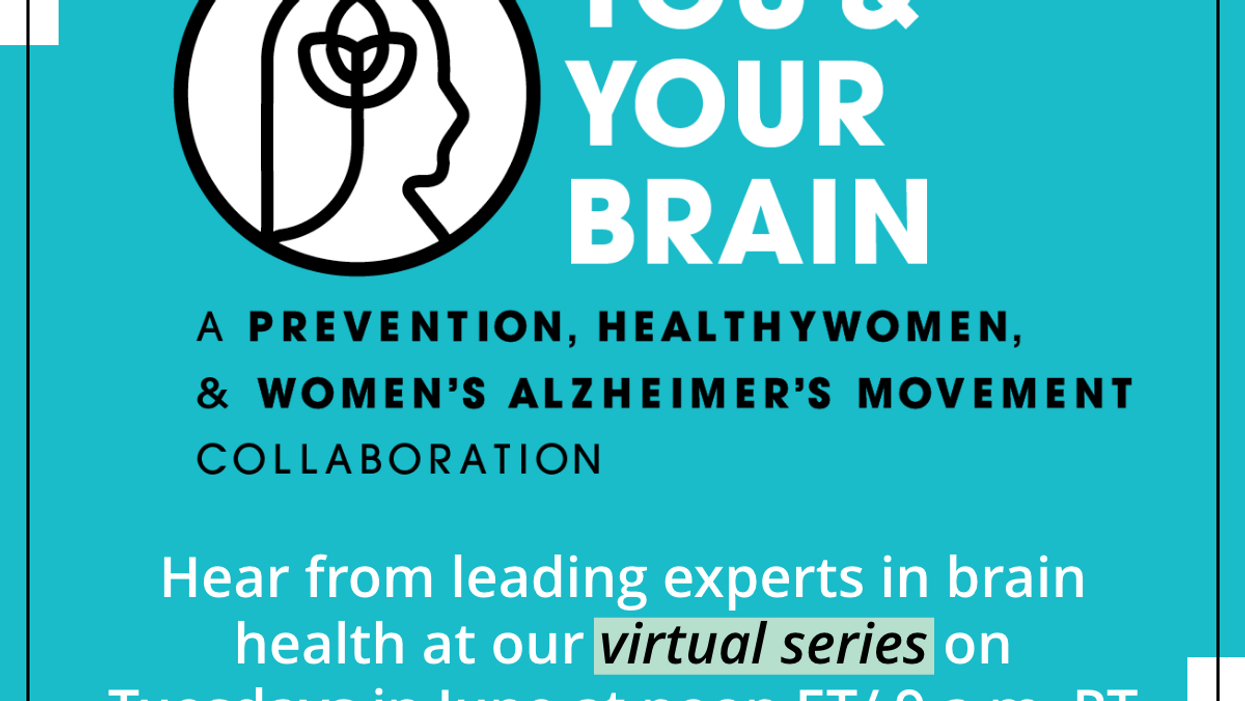 A message from Maria Shriver
As women age, we may begin to notice changes in how our brains function. You may wonder what's normal and what isn't. Hormonal shifts happen throughout a woman's life and knowing how these shifts affect your brain can help you better navigate your own health and learn ways to maintain a healthy brain.
Did you know that women make up two-thirds of Alzheimer's cases in the United States — and they take on the majority of the responsibility of caring for family members with the disease? That's why it's important to speak with a healthcare provider if you notice any changes in memory or cognition in yourself or your loved ones.
Join us as we explore these important topics in our "You & Your Brain" webinar series in partnership with Prevention
and the Women's Alzheimer's Movement. Renowned experts will bring you the latest insights on aging and your brain, navigating a dementia diagnosis, and breakthroughs in brain health.
These informative, inspiring events — held on Tuesdays throughout June — are free to attend.

"Aging and Your Brain: What's Normal, What's Not?"
June 8 at 12 p.m. EDT
Experts share secrets to staying sharp.
Moderator: Tara Narula, M.D., FACC, Assistant Professor, Cardiology Zucker School of Medicine; Associate Director, Lenox Hill Women's Heart Programs; and CBS News Senior Medical Correspondent
Jessica Caldwell, Ph.D., Director, Women's Alzheimer's Movement Prevention, Center at Cleveland Clinic
Gayatri Devi, M.D., M.S., FAAN, FACP, Neurologist, Park Avenue Neurology
Eseosa Ighodaro, M.D, Ph.D., Neurology Resident Physician and Neuroscientist, Mayo Clinic
"Navigating
a Dementia Diagnosis: What Comes Next"
June 15 at 12 p.m. ET
Thoughtful guidance for you and your family so you can cope with any possibility.
Moderator: Joan Lunden, Journalist, Best Selling Author and Health & Wellness Advocate
Dan Jaworski, athlete living with early-onset Alzheimer's
Julie Jaworski, wife of Dan, who is living with Alzheimer's
Sarah Kremen, M.D., Behavioral Neurologist and Director of the Neurobehavior Program at the Jona Goldrich Center for Alzheimer's and Memory Disorders at Cedar-Sinai Medical Center
Petra Niles, M.S.G, Gerontologist and Senior Manager of African American Services at Alzheimer's Los Angeles
"The Future of Brain Health: Promising Advances in Medicine and Technology"
June 22 at 12 p.m. ET
Innovations in science, changes in policy, and how you can make a difference.
Moderator: John Whyte, M.D., MPH, Chief Medical Officer, WebMD
Sandra Bond Chapman, Ph.D., Center for Brain Health Distinguished Professor, School of Behavioral and Brain Sciences, The University of Texas at Dallas
Richard S. Isaacson, M.D., Director of the Alzheimer's Prevention Clinic (APC), Weill Cornell Memory Disorders Program, Assistant Dean of Faculty Development, and Associate Professor of Neurology at Weill Cornell Medicine & New York-Presbyterian
Karyne Jones, President and CEO, National Caucus and Center on Black Aging